MWP - Features - Clone tasks
Use case :

In a project plan, it's common to repeat some part of a plan few times. We call this iterations.

To ease task duplication, we have add "Clone" feature.
It's a lot more than a simple copy / paste.
This allow you to duplicate many times a summary task or selected tasks and let user define many custom options.

How to :
Select :
Select, tasks or summary you want to duplicate.

In the Schedule tab, select clone icon :

This window is displayed :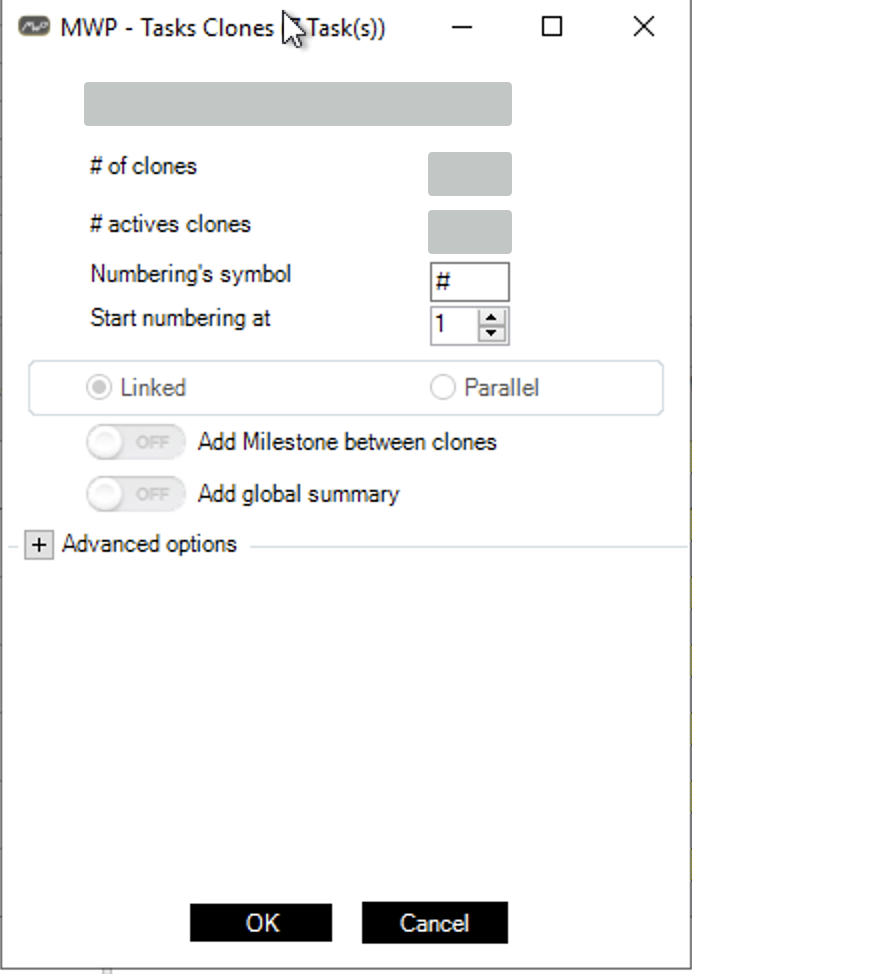 Setup clone :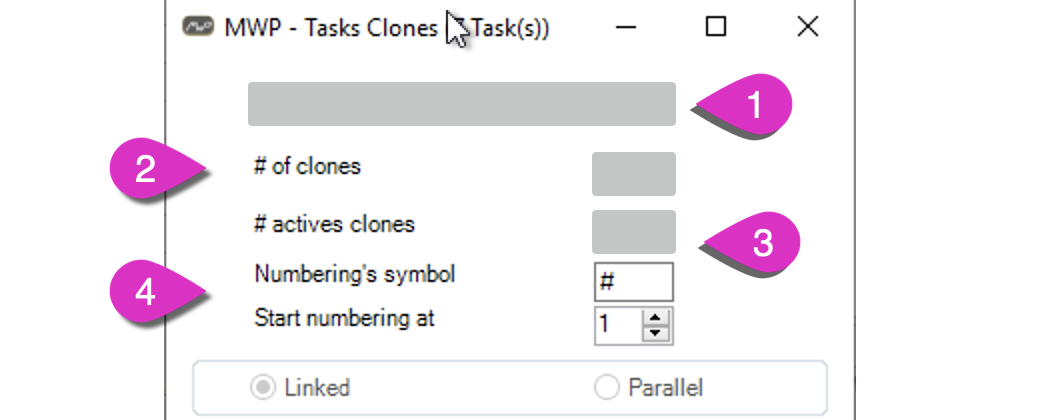 Fill or update task name : based on the selection, this will be the name of iteration summary. The numbering symbol will be incremented.

Set the number of iteration you want to add : how many times the selection will be duplicated.
Set how many iterations will be activated : you can add iterations that will be inactivated until you need them.

By default, numbering symbol is - # - il will be replaced by the iteration number : 1, 2, 3, ... You can define you own string.
By default, numbering start at 1, you can define your own start point.
Related Articles

MWP - Feature : Hammock tasks, set calculation mode

Use case : Hammock tasks need refresh calculation often to get the right duration. When you have a lot of hammock tasks in your plan, time spent to calculate can become inconvenient. To prevent this, we now allow you to choose is calculate is done ...

MWP - Features - Show all : See everything in one click

Use case When you schedule your plan, or track progress, you often apply filters, collapse outline levels to focus on the relevant data you want to work with. Filters, Outline levels, group by and zoom in or out functions bring us flexibility to get ...

MWP - Features - Track progress : fix dates

Use case Fixing tasks dates in Microsoft Project can be challenging. Especially when you have constraint and do not want MS Project to others value. We made an easy to use function to handle all the hassles for you. How to Select task(s), Go to Track ...

MWP - Features - Update a deadline

Use case : When a deadline cannot be meet you have to manage the plan to recover the expected date or you need to change the deadline. We bring you the possibility to explain or jusftify the reasons why dealdine has to be udpated. How to : Select the ...

MWP - Features - Track progress : no remaining work

Use case When a task is completed, it may stays with some remaining work. You can set task as truly complete using our "No remaining work" function. Available in "Track progress" tab in our Ribbon. How to Select task(s), Go to Track Progress tab, ...