MWP - Views - recommended: is recommended view single or combined ?
Use case

Most interesting MWP views are present under our "Eye" menu. They are either single pane or combined based on needs.

Icon before view name shows if it's a single or combine view.

How to

With an project open:

click on "Eye" through ribbon,

List of recommended views is displayed.

In the view list, a small pictogram show wether the view is single or combined.

single view : full screen view.

combined view : the screen is split in 2 parts, each get a single view. What you select on top part gives the result of bottom part.

When your switch from combined to single, we remove the split in order to display the new view in full screen.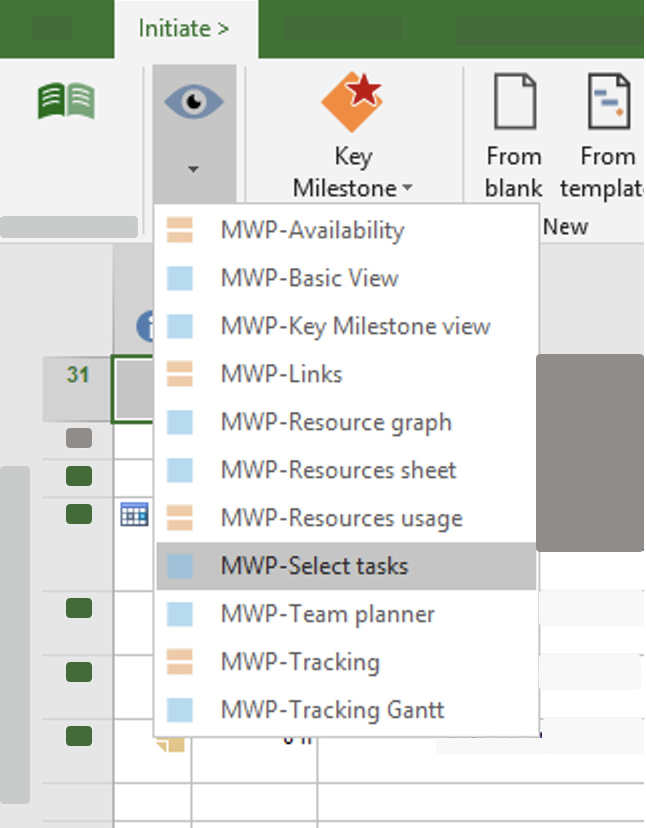 Related Articles

MWP - Features - Show all : See everything in one click

Use case When you schedule your plan, or track progress, you often apply filters, collapse outline levels to focus on the relevant data you want to work with. Filters, Outline levels, group by and zoom in or out functions bring us flexibility to get ...

MWP - Setup : How to install

First steps Before going further, your should ensure: You meet Prerequisites You have downloaded good version (32 or 64 bit) Install steps You don't need administrator privilege, even standard user can install without issue. Start setup: Click on ...

MWP - Setup: How to activate license

Use case After installing More With Project Add-On, you must activate once your license. In case you did not install yet: How to install You should have received an activation key during your subscription. Reach us in case you lost or did not receive ...

MWP - Setup: How to check version

A quelle fréquence ? Nous publions régulièrement des mises à jour de notre environnement. En moyenne 2 fois par mois. Nature des mises à jour : Ajout de nouvelles fonctions Amélioration de l'existant. Correction de bug. Comment obtenir la dernière ...

MWP - Setup: prerequisites

Prerequisites Computer Operating System: Windows 10 or higher, Windows 32 or 64 bit. Windows 7 and 8 with all latest updates from Microsoft may works, but is not supported Microsoft Project As an add-on for Microsoft Project, we cannot work without ...